Sustainability and CSR
Environment
The employees of M + N Textiles are aware of their responsibility to separate waste, garbage, iron, cardboard and paper. Fabric returns, packaging or production residues are recycled by our partners in a responsible manner.

End of life takeback service
M + N Textiles offers the possibility to take back the REVOLUTION® and REVOLUTION® Metal fabrics at the end of its life cycle. The fabrics will be mechanically recycled with the highest yield returns possible at a state-of-art recycling plant in Belgium. Of course you can always contact us with questions related to recycling.

Energy
Within M + N Textiles we are aware that we need to deal responsibly with the fossil recources on our planet. We therefore utilize "Renewable Energy" from Eneco NV derived from wind, water, sun and biomass.
M + N Textiles therefore contributes to the production of renewable energy and to reduce greenhouse gas emissions and CO2.

Download the "Renewable Energy Certificate".



As a participant of Dutch Green Building Council (DGBC) and partner of MVO Netherland (Corporate Social Responsibility), M + N Textiles is committed to the mission, vision and objectives of these organizations.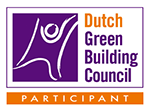 Goals
The DGBC's overarching goal is to advance the sustainability level of the built environment. In practice this leads to four primary goals.
The first goal is to allow for the accurate and consistent measurement of a building's sustainability level.
The second goal is to raise the profile of sustainable buildings. The DGBC has already trained some 60 Assessors and more than 300 Experts to certify buildings.
The third goal is to expand and share knowledge. Sharing knowledge within the industry is vital to obtaining smooth and rapid progress, and the DGBC organises numerous conferences and events related to sustainable buildings and regional development. In addition DGBC cooperates with universities and professional development institutions, and is involved in making educational material for high schools.
The fourth goal is to ensure that sustainable construction becomes common practice and to fully integrate sustainability issues from planning through development and into final use. To guarantee sustainable use, it is necessary that occupiers change their habits, so the DGBC wants to study how buildings are being used and what actions should be taken to improve on this.
Corporate Social Responsibility

Corporate social responsibility (CSR) means that a company takes responsibility for the effects of its business activities on people, the environment and business operations.
The company makes conscious choices to find a balance between People, Planet and Profit. Companies could even go a step further and focus on new market opportunities, growth and innovation with profit for people, society and the environment. Now and in the future CSR is the benchmark for doing business in the 21st century. The starting principles here are:
CSR is an integral vision on entrepreneurship, whereby the company creates value in economic (Profit), ecological (Planet) and social (People) fields.
CSR is embedded in all business processes. With every business decision, the different stakeholders interests are weighed up: the interests of the persons, companies and organisations involved. CSR is tailor-made. The CSR activities are different for every company. It depends on company size, sector, culture and on company strategy.
CSR is a process, not a final destination. The objectives pursue change over time and with every business decision. The company is looking for achievable steps to give shape to social responsibility.